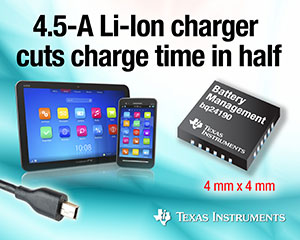 Texas Instruments, Inc. (TI) has introduced a lithium-ion battery charger integrated circuits (ICs) that reduce charge time by 50 percent in smartphones and tablets compared to other charger solutions. The bq2419x family of 4.5-A output, 20-V input-rated switch-mode chargers with I2C interface and USB On-the-Go (OTG) support delivers faster and cooler charging to a wide array of applications ranging from power banks and packs to 4G LTE routers, Wi-Fi speakers, portable medical and industrial designs.
Consumers continue to want faster battery charging in portable electronics. New designs require more accurate, highly efficient charge circuitry that keeps the system cool and safe while charging at a faster rate. TI's bq24190, bq24192, bq24192i, bq24193, bq24195, bq24195L and bq24196 fast-charge circuits reduce charge time through battery path impedance compensation, and offer programmable thermal management capability to ensure the safest, most reliable system operation.
Key features and benefits of the bq2419x include faster charging for single-cell lithium battery packs, cooler charging with highest efficiency and longer battery run-time. The bq2419x battery chargers for single-cell Li-Ion batteries is available now in a 24-pin, 4-mm by 4-mm QFN package, priced at $2.50 in quantities of 1,000.