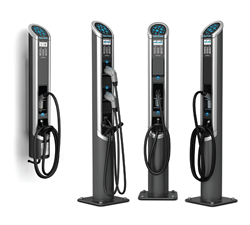 Tellus Power has introduced a new electric vehicle (EV) charging station line for the US market. The  chargers feature a modern and durable design, low cost network and a convenient financing model. The stations are perfectly suited for use in retail and office parking garages. The chargers can also be used for fueling EV fleet or car rental companies.
"We have studied the market very closely and are introducing a product that is very much needed in the industry," said Bill Wang, CEO of Tellus Power. "Our commitment to quality, design and installation process manifested itself in a great line of EV charging stations that will alleviate many concerns in the industry," added Mr. Wang.
Tellus Power's solution for the US market is built on four key components: great design, durability, low cost network and convenient financing options. The electric car charging station line includes networked Level 2, a Combo Level 1/Level 2, and Dual Level 2 chargers. The charging line allows hosts and fleet operators to configure stations according to their needs, either the dual Level 2 to accommodate two EVs at a time or a combo Level 1/Level 2 to support legacy EVs, electric motorcycles, and e-scooters. All units are ETL certified and conform to the highest safety standards. Close to 80 charge connections have been installed, field tested and operational in Houston and Austin, TX as well as Canada since 2011, both equipment and the network have proven to be durable and reliable.
The entire charging station line is equipped with a display that allows easy driver interaction. Additional functions such as user access authorization and subsequent cashless billing via text messaging are readily available.