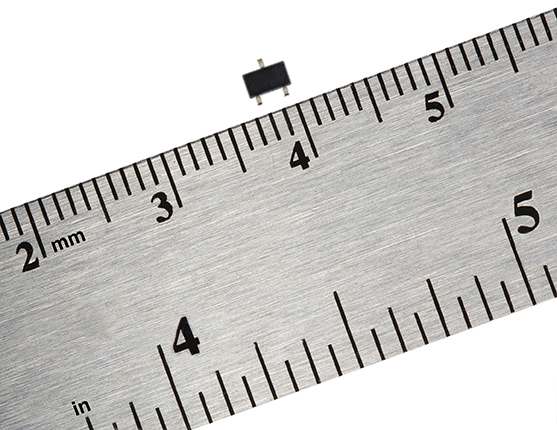 Honeywell has introduced a Nanopower Anisotropic Magnetoresistive Sensor ICs that provide a high level of magnetic sensitivity (as low as 7 Gauss typical) while requiring nanopower (360 nA).  When compared to other widely used magnetic technologies, these sensors offer design engineers a number of advantages.
Smaller and more durable and reliable than reed switches, at the same sensitivity and essentially the same cost, the new Nanopower Series Magnetoresistive Sensor ICs are well suited for battery powered applications where previously only reed switches could be used due to very low power requirements and large air gap needs.
Compared with Hall-effect sensors, the new Nanopower Series Magnetoresistive Sensor ICs' higher sensitivity can allow the ability to sense air gaps two times the distance of Hall-effect sensors.  The higher sensitivity improves design flexibility and can offer significant application cost savings by utilizing smaller or lower strength magnets.
The Nanopower Series Magnetoresistive Sensor ICs are designed for use in a wide range of battery-operated applications including water and gas meters, electricity meters, industrial smoke detectors, exercise equipment, security systems, handheld computers, scanners, as well as white goods such as dishwashers, microwaves, washing machines, refrigerators and coffee machines, and medical equipment such as hospital beds, medication dispensing cabinets, infusion pumps, and consumer electronics such as notebook computers, tablets, and cordless speakers.
"Due to the significant price increases for rare earth magnets, design engineers using Hall-effect sensors have been looking for ways to decrease the total cost of design by using less magnetic material, or moving to a more common magnet in their applications," said Josh Edberg, senior product marketing manager for Honeywell Sensing and Control.  "Design engineers are also looking for an alternative to reed switches to reduce size and increase quality and durability, while maximizing battery life.  Honeywell's new Nanopower Series Magnetoresistive Sensor ICs are well suited for these battery powered applications due to their high sensitivity and nanopower."