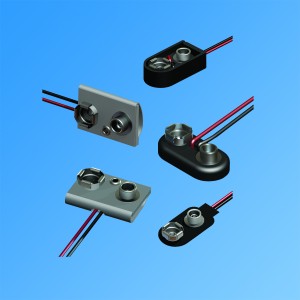 Two series of high reliability, pre-wired and cost-effective 9 V battery straps that accommodate 9 V alkaline and 9 V lithium-ion batteries are available from Keystone Electronics Corp.
The entries consist of the high performance "Premium" design as well as the similarly designed, cost-saving "Economy" types. The "Premium" selection is made of molded Polyethylene or rigid fiber and incorporates high quality insulators, and Phosphor Bronze or Spring Steel, Nickel-plated, snap-on connectors. Availability is in "T" or "I" configurations. All straps are engineered for long-term dependability using soldered-in red and black wire leads in three lengths:  4-inch, 6-inch or 8-iinch for Shielded types which are fully insulated to reduce accidental short circuit incidence.
The "Economy" types feature a similar and are offered in "T" or "I" configurations. Fully insulated, they feature Brass, Nickel-plated contacts and molded ABS or vinyl covered bases.