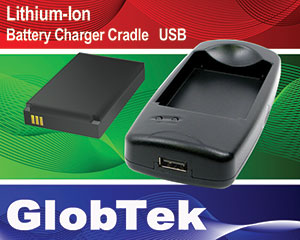 GlobTek manufactures customized battery charger cradles for OEM applications to suit GlobTek standard or custom Li-Ion battery packs or customer designed/supplied battery packs. The GT-91126-0305-0.8, utilizing a standard USB power source such as GlobTek GT-41078-0505-USB, provides a charge voltage of 4.2 VDC with a pre-charge current of 160 to 200 mA and bulk charge current of 800 mAh.
Employing intelligent semiconductor-based charging technology, the GT-91126-0305-0.8 is a CC/CV charger that charges the battery in three phases: conditioning, constant current and constant voltage, with charge timer as safety back-up for charge termination for extra protection. Additional safety features include over voltage protection, short circuit protection, over temperature protection, reverse battery protection and defective battery protection. The charger is compliant and certified to UL 60950-1, EN60950-1, FCC Part 15 Class A.
Customized enclosure colors, housing designs and battery cavities/contact methods, output cord types and lengths, as well as customized packaging available upon request.