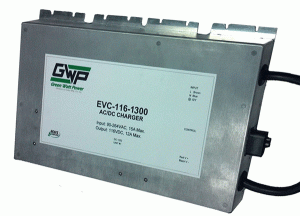 Green Watt Power, a division of Calex Mfg. Co., Inc., has introduced
the EVC-116-1300, a 1,300 watt constant current and constant voltage two stage charger specifically designed to charge lithium ion battery systems in electric vehicles such as scooters, motorcycles and carts. The low profile design of the EVC-116-1300 allows mechanical integration into a variety of form factors. If needed, Green Watt Power can modify the unit as needed to meet each application's unique requirements. The standard overall dimensions of the EVC-116-1300 is 9.76 inches by 14.76 inches by 1.73 inches with a weight of 7.6 kg. The package is designed for high power density and thermal efficiency.
The EVC-116-1300 has universal input range of 90 to 264 VAC, able to handle wide range standard of worldwide wall power input voltages and frequencies. The input frequency is 47 to 63 Hz. Efficiencies up to mid 90's depending on the input voltage, an industry best. The Power Factor Correction is 0.99 at 110 VACin and 0.96 at 220 VACin.
The Iout noise and ripple is 10 percent of Iout max. The turn-on delay at full load is 3s max. Each unit is protected by short circuit protection with auto recovery, over voltage protection and over temperature protection. The EVC-116-1300 is also backed by Green Watt Power's Five Year Warranty. CAN bus communication is a standard feature for unit status and control.
The operating temperature range of the EVC-116-1300 is -23°C to 50ºC. The storage range is -40°C to 85ºC. The unit is rated for IP65 for the enclosure. The EVC is designed to meet UL/CSA, TUV and EN55002 Class A.