Bob Richard, Vice President of Regulatory Affairs
Labelmaster Services
Newly enacted regulations for transporting lithium batteries and lithium battery-powered equipment are causing various holdups due to a lack of awareness among some shipping and transport personnel.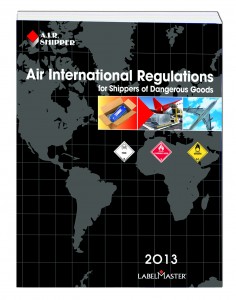 New requirements for shipping lithium batteries and lithium battery-powered equipment under the new 2013-2014 International Civil Aviation Organization's Technical Instructions on the Safe Transport of Dangerous Goods (ICAO TI) came into force on January 1st, 2013. In the US, the HM-215L final rule published on January 7th authorized the use of the 2013-2014 ICAO TI. According to several customers and clients, these new rules are already causing some headaches among shippers and carriers, which may not be all that surprising considering the narrow window between the adoption of the revised lithium battery packing instructions and the publication of the ICAO TI coupled with the lack of a transition period for compliance with new requirements (a common practice of the ICAO Dangerous Goods Panel). Unless one follows the work of the ICAO DGP and maintains an awareness of pending changes to dangerous goods regulations, they might not be aware of the changes until they receive their 2013-2014 copy of the ICAO TI or the 2013 A.I.R. Shipper.
These latest regulation changes were adopted by the ICAO DGP in February 2012 and the report highlighting the agreed-upon modifications was not available until March 2012. The ICAO TI was published in late fall of 2012, leaving a limited amount of time for companies to examine the impact. It is certainly a challenge for many companies to assess these changes, as they may have to:
•  Review operations and impacts to current procedures;
•  Develop or update training programs;
•  Implement training to, in some cases, thousands of employees; and
•  Revise procedures and operations including revising internal documentation, standard operation procedures, battery documents and package markings.
The newest changes presented particular challenges because many companies that previously shipped lithium batteries and equipment under the previous exceptions have now been swept up into the community of dangerous goods shippers. Companies that ship limited items (e.g. laptops and smart phones for field staff) have found themselves having to revise operations and train a significant numbers of employees. Many retail and online distributors are extremely challenged by the new requirements. As a past regulator, I admit that I have a better understanding and appreciation for what companies have to go through to ensure their operations are compliant now that I am working at Labelmaster Services to support companies with their compliance challenges.
While the ICAO DGP did not provide an official transition period, it did recommend that competent authorities provide a 30-day grace period. It is not entirely clear whether the intent was to allow goods in the supply chain to get through to the destination or to allow shippers a month longer to comply. However, Dave Brennan, the International Air Transport Association's assistant director of Cargo Safety & Standards, recently clarified that the transition was exactly to provide an additional month to comply.
"Shipments presented for air transport by 31st December can always move to destination in the new year regardless of how long that takes," Brennan said. "Second, there is one very important difference between air and the other modes. No other mode has a mandatory acceptance check by the operator. That makes a transition period very difficult for the operators."
Given that this was a recommendation and not a requirement, shippers were left wondering which competent authorities recognized the grace period and who did not observe it. On the basis of this experience one must wonder whether the dangerous goods air shipping community should ask the ICAO DGP to consider authorizing reasonable transition periods. Wouldn't it be simpler if all of the modal bodies had consistent transition periods? The transition has come and gone so it really doesn't matter at this point, but hopefully lessons can be learned for future transition considerations.
What Problems are Lithium Battery Shippers Experiencing?
The revised definition of the terms "Battery" and "Cell" are causing some shipments to be frustrated. According to some of our customers and clients, shippers are finding that some airline and freight forwarder personnel are either not aware or not properly interpreting the latest definition of lithium cell and battery. In addition, it is common practice for a single cell battery to be referred to as a battery on invoices, packing slips and correspondence. The definitions for batteries and cells changed recently in the UN Manual of Tests and Criteria 5th Revision, Amendment 1, which is referenced in the ICAO Technical Instructions. According to the UN Manual of Tests and Criteria, 5th Revision, Amendment 1: Battery means two or more cells that are electrically connected together by permanent means, including case, terminals and markings. A single cell battery is considered a "cell".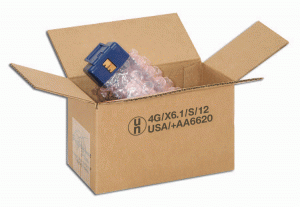 Cell means a single encased electrochemical unit (one positive and one negative electrode) that exhibits a voltage differential across its two terminals. Under the Model Regulations and this Manual, to the extent the encased electrochemical unit meets the definition of "cell" herein; it is a "cell", not a "battery", regardless of whether the unit is termed a "battery" or a "single cell battery" outside of the Model Regulations and this Manual.
The lithium battery proper shipping names don't allow a cell to be called a cell; they require it to be described as "UN 3090, Lithium Metal Batteries", for instance. This has been especially problematic for shippers of single cell batteries, who are finding their shipments rejected because the paperwork, MSDS, invoice or packing list describes them as "batteries." This will take time and education to resolve.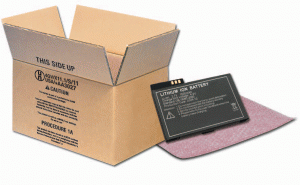 In retrospect, considering that the Section II exceptions are based in part on the watt hour rating of cells and batteries, one could argue that there is no need to set different thresholds for cells and batteries. For instance, Packing Instruction PI 965 includes a table that stipulates the quantity of cells and batteries that can be transported in an outer packaging based on the watt hour rating for the cell or battery. This leads to a lot of confusion for shippers and others in the transportation distribution network. One might question whether it's really necessary to set different thresholds for cells and batteries or if the watt hour by itself is sufficient. The latter approach would certainly be much simpler and alleviate a great deal of confusion. The watt hour rating is directly related to the energy density of the cells or batteries and should be sufficient for limiting the number of cells or batteries in a package.
Determining the net weight and gross weight limits for packages consistent with the packing instructions is a challenge because the packing instructions do not apply these limits consistently. For instance, the Packing Instruction PI 965 IB limits are a maximum of 10 kg gross weight per package, and the Section IA and II limits are based on the net weight of the batteries or cells per package. Shippers are challenged by having to determine the net weight of batteries and cells, and manufacturers don't always provide the necessary information. This is a particularly difficult scenario when lithium batteries and cells are contained in equipment.
Another issue that shippers face is the need to revise the battery safety document and whether the document should either be affixed to the package or provided to the airline manually or by electronic means. Most airlines don't have the capability to accept the lithium battery documents electronically or their forms do not provide sufficient space for the necessary information. Some shippers affix pressure-sensitive labels to the shipping documents or attach the document to the package or overpack. The ICAO TI packing instructions don't provide much detail on how the document should be communicated, and while it provides flexibility, it certainly results in many different practices being utilized. One might question whether the document could be provided inside of the outer package since nowhere in the ICAO TI is it stated otherwise. According to some carriers I have spoken with, many do not use the document. In some instances the document must be passed on to another interlining carrier, but it is rare that the document provided by the shipper is used. Given its lack of use and duplicity of information (the document states the same information that is provided on the handling label), isn't it time to question the usefulness of the battery document?
Another questionable documentation requirement that leads to problems is the requirement to add the statement "Lithium ion/metal batteries in compliance with Section II of 9XX" on the air waybill when an air waybill is used. Why is it only required if an air waybill is used? Does this text really add any safety value? Or is it just a requirement that enforcement officials can use to generate penalty actions?
State and operator variations present their usual challenges but considering the short time from adoption of the new requirements until mandatory compliance, the situation is more convoluted than ever. For instance, Section IB packages carriers have implemented variations stating that an alternative document is not acceptable. FedEx Variation FX-7 states: FX-07 Lithium batteries (Section I, Section IB and Section II) must not be shipped in the same package as the following dangerous goods classes/divisions: 1.4, 2.1, 3, 4.1, 4.2, 4.3, 5.1, 5.2 and 8, and 2.2 with a Cargo Aircraft Only label. This includes All Packed in One, Overpacks and combination All Packed in One/Overpacks.
Lithium metal batteries, (primary non-rechargeable) UN 3090 that are shipped either fully regulated or in accordance with Section I, Section IB and Section II of Packing Instruction 968 require pre-approval.
Effective January 1st, 2013, UN 3480 Lithium Ion Batteries and UN 3090 Lithium Metal Batteries prepared in accordance with Section IB will require a shipper's declaration for dangerous goods (DGD) with each shipment. "IB" must be indicated in the Authorization Column or the Additional Handling Information. Alternative documentation will not be allowed.

Complying with state and operator variations is a challenge since, in many instances, these only appear in air regulations addendums because competent authorities and operators are challenged to meet publication schedules and submission deadlines. Even the US variations were not submitted in time to be included in the 2013-2014 ICAO TI.
The interpretation of when to use "cell" or "battery" and when to use "contained in equipment" is another source of misunderstanding. For instance, is a lithium cell or battery attached to a printed circuit board assembly, or with leads and components attached, described as contained in equipment? PHMSA issued an interpretation that addresses this issue on June 16th, 2011, (see Ref. No.: 11-0056) to Raytheon. In the letter, PHMSA explained:
According to your letter, you intend to ship a mount assembly for a lithium ion battery powered radio. You described the mount assembly as "Lithium ion batteries contained in equipment, UN3481, PG II." For your information, the term "equipment" as it is used in the proper shipping name "Lithium ion batteries contained in equipment" refers to the apparatus or device that performs a function requiring the lithium ion batteries. A lithium ion battery pack placed into a mount and transported without the radio the battery pack is intended to power is properly described as "Lithium ion batteries, UN3480, PG II." Based on this interpretation PHMSA considers that you must be shipping the actual apparatus or device that performs a function requiring the lithium ion batteries.
Shipments from China
A number of our clients and customers have described difficulties shipping lithium batteries and equipment from China. Ms. Xu explained that Chinese regulators have implemented a number of initiatives to enhance familiarity of the new regulations, including:
•  Providing educational outreach materials on the amendments of 2013-2014 ICAO TI, including the lithium battery requirements;
•  Training airlines and their agents;
•  Issuing outreach materials and hosting seminars for shippers;
•  Responding to inquiries related to interpretation of the new requirements.
It will take time and effort to get all concerned parties in the transportation network up to speed on the new requirements. Working closely and cooperatively with forwarders and carriers will be more critical than ever.
How Labelmaster Can Help
Please let us know what problems you are experiencing. For those that require immediate assistance with transporting lithium batteries and lithium battery-powered equipment, the Labelmaster Services team offers a number of solutions, including but not limited to:
•  Developing lithium battery compliance programs
•  Conducting compliance assessments
•  Updating or developing training programs
•  Compliance with and guidance on domestic and international
transport regulations.
In addition, Labelmaster offers a variety of product solutions for shippers of lithium batteries and cells, such as labels, packaging, shipping guides and training. We will continue to stay abreast of lithium battery regulation developments and provide updates as they happen.
Bob Richard Bob has been involved in the development and implementation of hazardous materials safety regulations for 30 years, and has been responsible for a broad range of domestic and international hazardous materials safety efforts, including the development of the current international and domestic infectious substances regulations.
For more information please visit www.labelmasterservices.com.