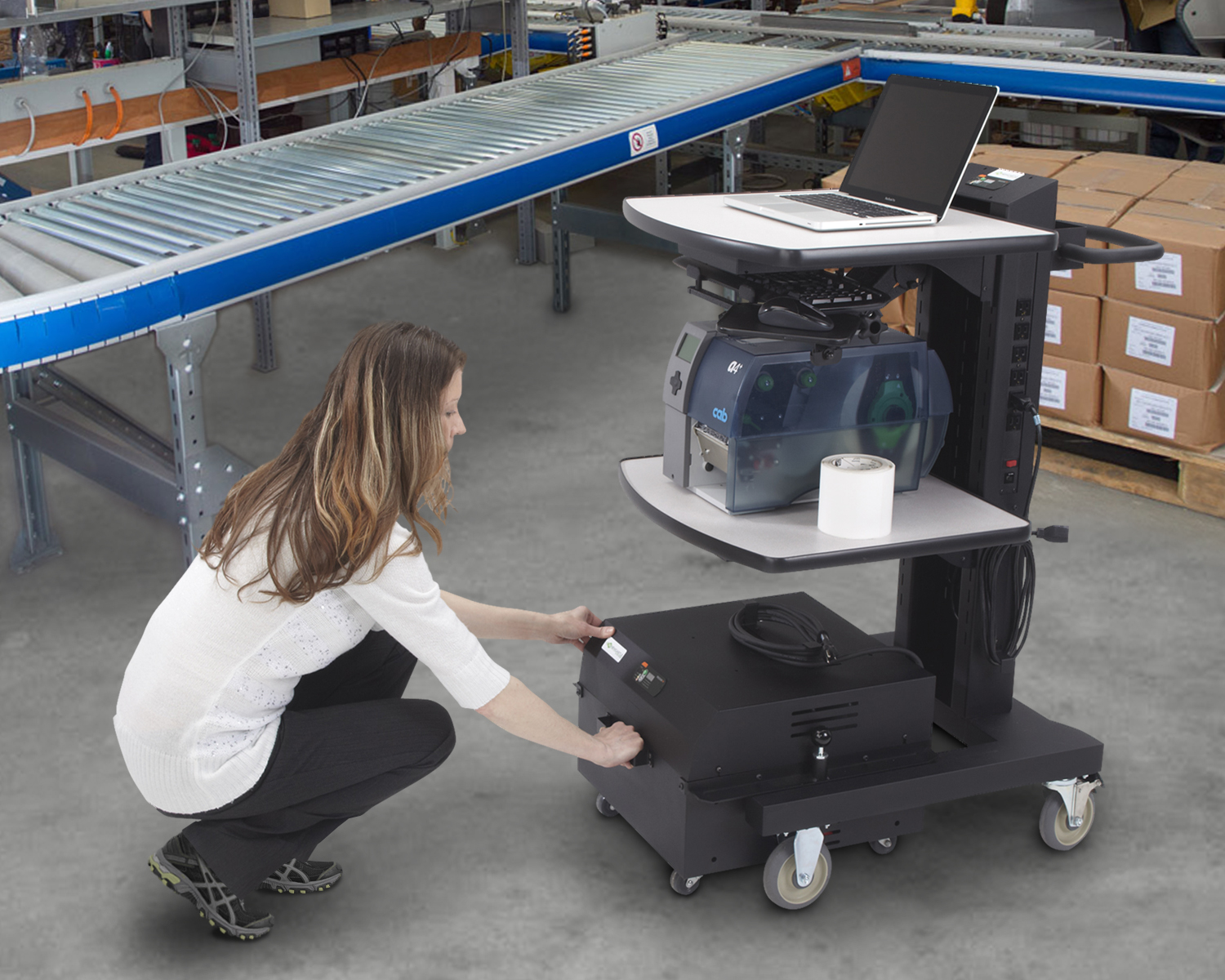 The new Power Swap System from Newcastle Systems enables the company's NB series Mobile Powered Workstations to operate 24 hours a day with no break for recharging.  To run computers, printers, scales, testers, barcode scanners and other electronic hardware, these easily maneuvered workstations provide clean, seamless AC power without the hassles of extension cords or ceiling drops.
A convenient alternative to purchasing a second workstation, the Power Swap System is well suited for facilities with multiple work shifts or applications that draw enough power to shorten typical battery life. The new power units are on swivel casters, and their connectors mate easily with the workstation's ports.  A unit with a depleted battery can be swapped with a fully charged one in only 30 seconds.  The spent unit is then recharged at a standard wall outlet.
Housed in sealed, fully ventilated steel cabinets with built-in handles and cord holders, the new power units each include a UL- and CSA-approved inverter/charger package and a digital remote meter with a color-coded LED display that provides battery status and an audible low-voltage alert.  The units are available with one battery (100 AH) or two (200 AH).  The single-battery configuration (PS22) will typically power a laptop/tablet computer and a large printer for eight+ hours and recharges in three to five hours. The dual-battery configuration (PS25) will typically power a desktop PC and a large printer for eight+ hours and recharges in eight to ten hours.  Run time varies according to use.
A benefit to warehouses, distribution centers, factories, laboratories, retail stores, and many other facilities, NB Series Mobile Powered Workstations save labor and improve productivity by significantly reducing foot travel and paperwork.  These patented, ergonomic workstations can power up to four devices simultaneously.  Adjustable shelves can hold up to 75 pounds each.  Instead of walking back and forth from a deskbound computer to printers and other devices used in tasks such as inventory management, process control, on-demand label printing, product testing, order picking, cross-docking, weighing, scanning, etc., an employee can bring all necessary equipment to where the work is taking place.  The operator can have real-time access to WMS, ERP and automated data collection.