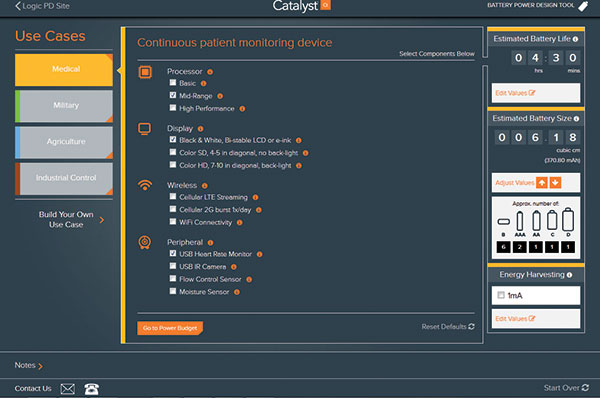 Logic PD has introduced a free, interactive battery power design tool to help product designers and developers predetermine the battery power requirements for new products. Product dimensions, performance and battery power are critical factors when designing for today's portable device. End users expect a long battery life for their compact, lightweight, portable device, making power management critical to new product success.
Logic PD's battery power design tool allows users to select a pre-configured product scenario or build their own use case using the defaults provided. Each scenario generates a power budget with typical values in each state. Users can adjust these variables to better mirror their own product requirements. The power budget determines estimated battery life and size. Users can adjust either parameter to see the impact. For ultra-low power applications, users can even see the impact of power harvesting technology.
"A clear vision of how the final product will be used is required for effective battery design, product size, functionality and usage environments all impact the optimal power configuration for that product," said Curt McNamara, principal engineer, Logic PD. "We leverage best practices with use cases and scenario development to design products for our clients that have the dimensions, performance and battery life required by the device end-users. This is critical for the adoption and success of any new wireless product."
For instance, emergency and medical personnel need handheld smart devices that are always on. Utilities need sensors in remote locations that continually monitor critical data for years on a single battery. Miniature cameras that can transmit video without requiring a plug in power source could redefine the security industry. Understanding the needs of the end user impact the battery power required for a specific product.
Logic PD dedicates a team of engineers to research and develop new technologies to address the need for reduced power consumption. For instance, Logic PD has made a significant advancement toward meeting the demand for instant-on devices. The company has developed proprietary software that enables Logic PD's System on Module (SOM) customers to reduce the boot time required for battery-powered devices to less than one second.