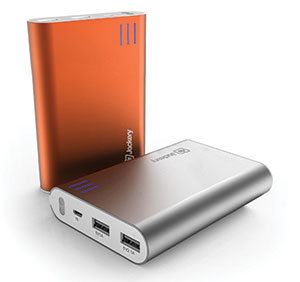 Jackery, a provider of premium rechargeable battery products for mobile devices, has launched Jackery Giant, a product that features up to 220 hours of extra operational time.
The Jackery Giant has two output connections, allowing it to power two devices at the same time. The Giant is the company's strongest battery, but it still has a small footprint and produces a high charging capacity to size ratio. The device weighs less than 11 ounces and measures 4.3 by 3.1 inches, making it small enough to fit in a pocket or purse. It also functions as a flashlight, offering up to 700 hours of illumination with two LED lights.
Every Jackery device is built to last due to its durable aluminum case that can withstand frequent use in a variety of environments. They all feature power lock technology that allows them to hold a charge for six months in a standby mode without any loss in charging efficiency. In addition to iOS and Android devices, Jackery's products are also compatible with Windows phones, various smartphone and tablet platforms, multiple gaming devices and MP3 players.