With the rise in the numbers of electric vehicles (EVs), the proliferation of local charge stations is becoming important in enhancing range confidence to maximize the benefits of all-electric driving. With support from Nissan and ABB, Inc., the University of Wisconsin-Milwaukee (UWM) has installed two EV fast chargers on their campus for public use.
The two new UWM stations are the first EV fast-charge stations in Milwaukee County. They bring the number of fast-charge stations in Wisconsin to four. ABB offers one to the general public at its New Berlin facility and another is available in Madison.
The two DC stations, which will charge EVs in 30 to 90 minutes, are the latest addition to UWM's other two AC charge stations. The AC stations take between four and eight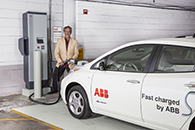 hours to charge a vehicle, said Mike Priem, a senior facilities planning specialist in UWM's Parking & Transportation division.
These plug-in charge stations will work for the Nissan LEAF and Mitsubishi i-MiEV. They will charge a Nissan LEAF to 80 percent in about 30 minutes.
"As a neighbor at UWM's Innovation Campus, we were excited to be part of the university's sustainable transportation efforts," said Andy Bartosh, program manager for the Electric Vehicle Charging Infrastructure business at ABB. "We see fast charging technology supporting electric vehicle adoption rates all over the world, so this project is an important milestone for both the university community and the greater Milwaukee region."
Located on the first levels of both the parking structure under the Engineering Math Sciences (EMS) building and the Klotsche Center & Pavilion structure, the fast-charge stations are available for use by anyone. There is no cost, except for the cost to park.
The existing longer-term charge stations on campus include one in the Northwest Quad lot and another in the EMS parking structure, which are also available to the general public.