Contributed Commentary By Brian Beetz, Manager of Regulatory Affairs and Corporate Responsibility, Labelmaster
April 29, 2019 | The fire risk associated with lithium batteries has been a hot topic in recent years. Mounting safety concerns have led to increasingly strict restrictions—including being banned from passenger aircraft, and more rigorous testing around a battery or device's ability to cope with the extreme temperatures, high altitudes, and other transport stresses.
This safety push has continued as new U.S. rules for transporting lithium batteries became official in March, further prohibiting the transport of lithium-ion cells or batteries on aircraft and adding additional marking and labeling requirements for lithium battery shipments transported by road, rail, and air. This new Interim Final Rule (IFR), set by the U.S. DOT's Pipeline and Hazardous Materials Safety Administration, means that companies transporting lithium batteries domestically are now aligning to the same transport and labeling rules originally put forth by the International Civil Aviation Organization in 2016. 
According to U.S. Secretary of Transportation Elaine L. Chao, "This rule will strengthen safety for the traveling public by addressing the unique challenges lithium batteries pose in transportation."
Summary of the New Changes
–Major changes applicable to air transport of lithium cells and batteries in the U.S.: 
–Prohibits the transport of standalone lithium-ion cells and batteries as cargo on passenger aircraft. However, this change does not apply to lithium-ion cells and batteries contained in, or packed with, equipment.
–Limits standalone lithium-ion cells and batteries to a 30% state of charge (SOC). A limited exception exists for cells/batteries used to power medical devices, but requires PHMSA approval.
–Limits excepted shipments of lithium-ion and metal cells/batteries to one package per consignment or overpack.
Additional changes made to marking and labeling requirements for all road and rail shipments:
–Shipments containing excepted lithium-ion cells and batteries shipped in accordance with 49 CFR § 173.185(c) must now display either the marking "LITHIUM ION BATTERIES—FORBIDDEN FOR TRANSPORT ABOARD PASSENGER AIRCRAFT'' or a ''CARGO AIRCRAFT ONLY'' label. These types of shipments were previously required to display the lithium battery mark, but now must also display one of these companion labels.
This requirement also applies to lithium-ion cells and batteries contained in/packed with equipment where the package exceeds 5 kg of cells/batteries.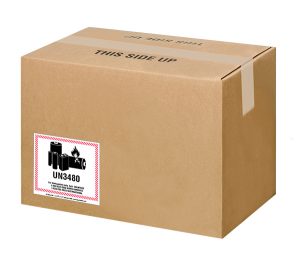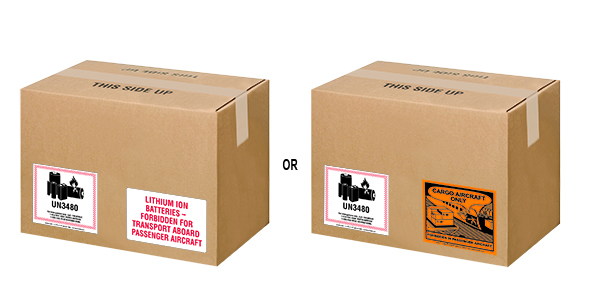 PHMSA Administrator Howard Elliott stated, "PHMSA is enhancing passenger safety by permitting personal electronic devices onboard aircraft while ensuring cargo shipments of batteries are transported separately."
Strategies to Address Expanding Transport Regulations
While the IFR and other transport regulations are part of an industry-wide push to ensure safety, they have an impact on companies that manufacture and distribute lithium batteries (and the technologies that rely on them). Here are some strategies to help companies ensure compliance and avoid disruptions to operations.
–Stay up-to-date on the latest regulations and understand their impact. Regulations for shipping lithium batteries and other dangerous goods are complex and constantly changing, and in some cases, like with the new IFR, they are put into effect without a transition period. It's important for companies to stay up-to-date on the latest regulations and understand how the changes impact their operations in order to quickly make necessary adjustments.
–Implement proper processes and infrastructure to ensure all shipments are safe and compliant. The regulations for shipping dangerous goods vary by country, transportation mode, item type and more, so ensuring compliance can be challenging—especially for organizations with multiple business units and locations. Establish enterprise-wide processes to make sure every shipment is compliant with the latest regulations—from proper labels and packaging to complete and accurate documentation. Dangerous goods shipping software can help automate the process while validating each shipment against the latest regulations.
–Partner with a regulatory expert to answer questions and help ensure compliance. Shipping dangerous goods is a complicated and time-consuming process. Partnering with an industry expert can not only help you stay informed of the latest regulations, but also make sense of them to ensure compliance across your supply chain.
–Take a strategic approach to lithium battery transport. There are now stricter rules and harsher noncompliance penalties when it comes to lithium battery shipments. So companies who manufacture and distribute lithium batteries should look for opportunities to utilize new and innovative shipping solutions in order to streamline the shipping process, improve regulatory compliance and mitigate risk. For example, look to utilize next-generation packaging engineered specifically for transporting lithium batteries. These modern packaging solutions provide a thermal barrier that mitigates the risk of fires by containing pressure, fire, gasses and projectiles, yet requires no use of gel packs, heavy liners or fillers—making the transport of lithium-related items safer, easier, and more cost-effective than ever before.
Successfully Navigate Changing Lithium Battery Transport Regulations
As the use of lithium batteries and battery-powered devices continues to expand, so too will the rules for transporting them. To ensure compliance with these complex, ever-changing regulations, and to maintain safe and smooth operations, it's critical for companies that manufacture and distribute these items to have adequate processes and infrastructure in place. By taking a strategic approach to lithium battery transport, companies can enhance their own operations while helping the industry achieve the overarching goal of these regulations—safety.
Brian Beetz is manager, regulatory affairs and corporate responsibility at Labelmaster. He has over 20 years of experience in the hazard communication, and environmental, health and safety sectors, and worked in the environmental consulting industry prior to joining Labelmaster. His education includes a degree from Northern Illinois University, as well as extensive training on the regulations pertaining to the safe and secure transportation of dangerous goods domestically and internationally. He can be reached at BBeetz@labelmaster.com.