June 26, 2018 | News Brief | NEC Energy Solutions (NEC) has completed and commissioned the largest energy storage system in Europe for Germany-based EnspireME, a joint venture between Eneco, a Netherlands-based renewable energy company and Mitsubishi Corp. The 48 MW energy storage system located in Jardelund, Germany has more than 50 MWh of storage capacity and will generate revenue from the primary reserve market by providing reactive power to stabilize the transmission grid.
Transmission system operators (TSOs) in Europe are required to secure a certain number of capacity reserves to prepare for sudden power loss or an extensive blackout. The storage capacity from the system will be sold to the German electricity market through weekly common auctions where European grid operators purchase the reserve capacity they require in the primary reserve control market to guarantee the 50 Hz (Hertz) frequency on the grid. The energy storage system can also take over the role of primary reserve provider and become a more sustainable alternative to coal and gas fired plants.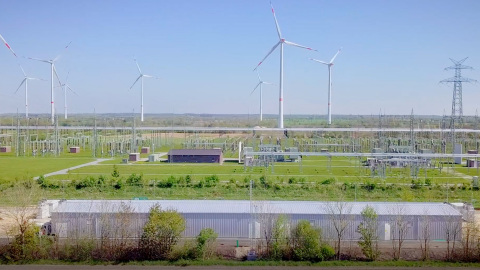 In addition, Eneco and Mitsubishi Corp. will investigate connecting the battery to local wind farms, providing further value for wind farm owners by storing excess electricity generated during periods of curtailment.
"We have been very impressed with the NEC team who have worked tirelessly to get this project up and running in about 8 months to the point of operations," said Hugo Buis, Eneco's director of Eneco Generation & Storage.
NEC provided turnkey engineering, procurement and construction (EPC) services which included its GSS end-to-end grid storage solution and its AEROS proprietary energy storage controls software. The 70 m by 12 m building houses approximately 10,000 lithium-ion battery modules that are enough to store power for about 5,300 German households for 24 hours.
"As the largest battery energy storage system in Europe, this is truly a landmark project and one that our entire NEC team is extremely proud of," said Steve Fludder CEO of NEC Energy Solutions. "This investment in energy storage will generate revenue for Eneco and Mitsubishi Corp. in the primary reserve market and also demonstrate the economic benefits of pairing energy storage with renewables, first proven with solar and now with the abundant wind generators in the Jardelund region."