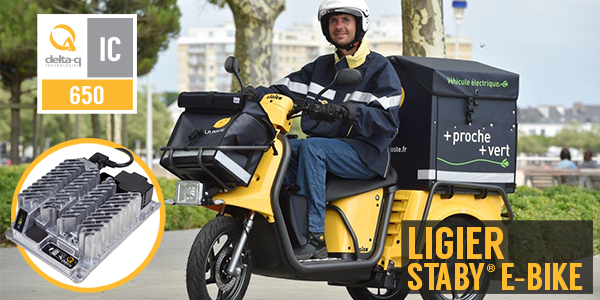 Delta-Q Technologies, a provider in charging solutions for electric drive vehicles and industrial machines, has been selected as the charging solutions supplier for the STABY, a new three-wheel e-bike design made by French manufacturer Ligier.
The STABY has been adopted by La Poste, France's national postal service, for the distribution and collection of mail and small goods. The La Poste electric fleet includes 4,000 cars, 1,000 quad-wheeled utility vehicles, 18,000 bicycles and 1,000 hybrid trucks.
The Ligier STABY e-bike is well suited for use in urban centers, with a range of 35 kilometers and a top speed of 45 kilometers per hour. It is designed and assembled in France.
The STABY uses a complete implementation of the IC650 Industrial Battery Charger, which is installed on-board the e-bike. The IC650 can tolerate high levels of vibration, shock, fluids and dirt. Its sealed die cast enclosure will provide a long service life despite the difficult operating conditions when mounted on-board.
The STABY uses a 38 V, 80 Ah lithium battery manufactured by French battery company E4V. A battery management system (BMS) controls the charging process via CAN bus protocol between the BMS and IC650 Charger.
The selected configuration of the IC650 Charger includes optional CAN bus communication programming and a sealed, locking AC cable. This cable is unique to Delta-Q and improves overall charging system reliability by locking the cable to the charger and keeping dirt and fluids from entering the AC receptacle.