The ASM 340 is a high-performance and durable leak detector for reliable quality assurance.  The wide scope of application ranges from industrial and analytical applications to research & development all the way to the coating market.  The compact leak detector can be used in both serial production as well as for maintenance tasks.  It is available in a conventional or an oil-free version.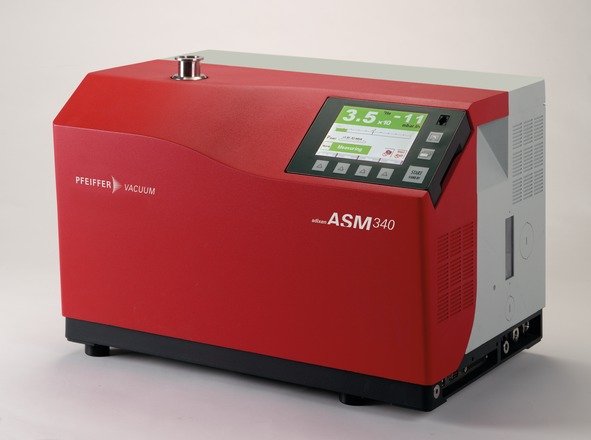 Both qualitative localization of leaks and quantitative integral or local inspection are possible with the ASM 340 leak detector. It distinguishes itself with a fast response time due to the high helium pumping speed.  These features lead to a short cycle time and high throughput.  The ASM 340 is the only leak detector in its class on the market that is capable of locating leaks starting at 100 hPa.
A large selection of interfaces enables  integration into production lines.  The removable manual control element and the optional sniffer probe with LEDs make the work that much easier.  Measured data can be recorded and evaluated using an SD card.  The wireless remote control enables operation from a distance of up to 100 meters.  Thanks to the robust design and the minimal maintenance required, service costs are also reduced.
With its extensive accessories, the ASM 340 can be adapted to specific applications.  A special transport cart also enables mobile use of the device.  Existing accessories for leak detectors in the ASM and HLT series are also compatible with the new device.