Robert Alverson, CHMM
Labelmaster
In August the US Department of Transportation (DOT) issued final rule HM-224F affecting the safe transport of lithium batteries[1].  DOT announced that the effects from the revisions of HM-224F will "strengthen safety conditions for the shipment of lithium cells and batteries. These changes, some of which focus specifically on shipments by air, will better ensure that lithium cells and batteries are able to withstand normal transportation conditions and are packaged to reduce the possibility of damage that could lead to an unsafe situation[2]."
The ruling brought about a strengthening in hazard communication and packaging provisions that should have a positive effect on the safe transport of lithium batteries in the near future.  Enhancements to the HMR includes the added use of reliable packaging, inspection and acceptance checks before loading cargo aboard aircraft, pilot notification, and employee training. August 6, 2014 marked the effective date with voluntary compliance starting immediately.  Mandatory compliance starts February 6th of 2015 unless otherwise noted in the ruling.[3]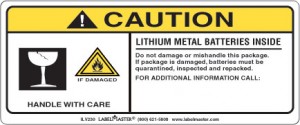 Highlights of the final rule include:
Enhancement of packaging and hazard communication requirements for lithium batteries transported by air
Discontinued use of the terms "equivalent lithium content" and replacement with "Watt-hours" for lithium ion cells and batteries
Adoption of separate shipping descriptions for lithium metal batteries and lithium ion batteries
Updated provisions governing small and medium lithium cells and batteries including cells and batteries packed with, or contained in, equipment
Revision to the requirements for the transport of lithium batteries for disposal or recycling
Harmonization of the provisions related to the transport of low production and prototype lithium cells and batteries with the ICAO Technical Instructions and the International Maritime Dangerous Goods Code
Adoption of brand new provisions regarding the transport of damaged, defective, and recalled lithium batteries
What's Ahead for 2015?
PHMSA proposed regulatory changes for the coming year and HM-215M offered the regulated community a formal landscape of what to expect regarding multimodal battery shipping.

In this Notice of Proposed Rulemaking (NPRM) PHMSA plans to amend the Hazardous Materials Regulations (HMR) to further align with international regulations.  This alignment keeps pace with regulatory changes occurring in the IMDG Code, the ICAO Technical Instructions, and the United Nations Recommendations on the Transport of Dangerous Goods-Model Regulations. The comment-period ended October 24, 2014.
Highlights of the NPRM revolve around changes to 49 CFR § 173.185 and includes the following summarized revisions[4]:
PHMSA proposed to add paragraph (b)(6) and revise paragraph(f)(3) to authorize and prescribe the use of a large packaging for a single large lithium battery or a battery contained in equipment. This authorization does not include transportation by aircraft.
PHMSA's NPRM proposed to amend paragraph (c)(4)(v) to require a shipping paper for these packages containing no more than 2.5 kg of lithium metal cells or batteries or 10 kg of lithium ion cells or batteries per package.
Section II of Packing Instruction 968 in the ICAO TI was amended to require shipments of small lithium metal cells and batteries to display the "CARGO AIRCRAFT ONLY" label where previously only a lithium battery handling marking was required.
The demand for lithium batteries is on the rise.  Reliance on the convenience of stored energy from batteries is increasing globally.  The consumer electronics market has been a large driver in the increased demand for low-cost batteries with improved efficiency, power, and capacity.  The global battery market is estimated to be a $50 billion industry with future sales predictions rising as a result of heightened buyer demand. We will continue see an increase in batteries being transported in commerce and thus a continued need for safety regulations that must constantly change and quickly harmonize globally in order keep pace with industry.  Those responsible for preparing lithium batteries and cells for transport will have to maintain flexibility as these rules evolve.
Labelmaster will continue to stay abreast of lithium battery regulation developments and provide updates as they happen.  For more information, please visit labelmaster.com.
References
[1] http://www.gpo.gov/fdsys/pkg/FR-2014-08-06/pdf/2014-18146.pdf
[2] http://www.dot.gov/briefing-room/us-department-transportation-issues-new-standards-improve-safety-lithium-battery
[3] Source: 79 Federal Register 46012 August 06, 2014
[4] http://www.gpo.gov/fdsys/pkg/FR-2014-08-25/pdf/2014-19161.pdf
Labelmaster established in 1967, is a developer, manufacturer, distributor and marketer of hazardous materials compliance products, including lithium battery labels, regulatory publications, lithium battery packaging and more. The company's nearly 50 years of experience providing regulatory information and products for all transportation modes make it especially qualified as a total compliance resource.
To learn more about Labelmaster, find us on Facebook or follow us on Twitter.