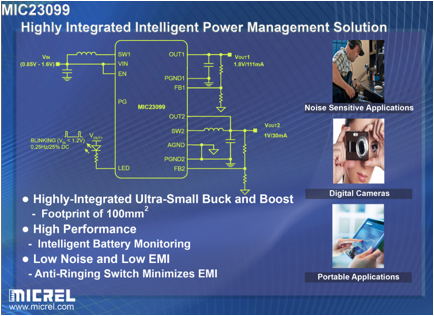 Micrel, Inc. has introduced the MIC23099 power management solution. The device is targeted at single AA/AAA battery cell applications. Operating from a minimum battery voltage as low as 0.85 V, the MIC23099 integrates two switching regulators with an intelligent battery monitoring system that provides the necessary power, monitoring and control for today's most demanding portable applications. This highly integrated, smart power solution offers high switching frequency converters to keep passive components to a minimum count and size, thereby allowing a total footprint of less than 100mm squared. The switching frequency is reduced during light load conditions and is limited to a minimum of 80kHz for the step-down regulator and 100kHz for the step-up regulator. This improves noise immunity in the audio band. In addition, an anti-ringing control switch improves EMI performance at the switch node and high power supply rejection (40dB at 20kHz) for the converters make the MIC23099 well suited for applications such as voice recorders, video game controllers, portable medical devices as well as fuel cell and solar cell applications. The MIC23099 is available in volume quantities with 1,000 quantity pricing starting at $1.75.
"The MIC23099 provides a high performance, highly integrated power management solution that solves the technical challenges in noise sensitive and space-constrained portable applications," said Brian Hedayati, vice president of marketing for high performance linear and power solutions at Micrel. "The device reduces overall solution size by over 40 percent and the built-in intelligent power monitoring further reduces system design complexity."
The MIC23099 combines a 1 MHz step-up converter capable of delivering 400 mW of output power with a step-down converter that provides up to 30 mA of output current. Internal sequencing and monitoring control ensures that each regulator starts up in an orderly manner to provide inrush current limiting. Once powered, the regulators and battery are continuously monitored and supervised to ensure proper operation. Other features include an output disconnect switch during shutdown and a low battery monitoring function with LED indicator. The solution also offers power good output, short circuit, and thermal protection. The device is fully specified from -40°C to 125°C and is offered in a 2.5 mm by 2.5 mm TQFN package.