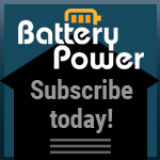 ADVERTISE WITH US
Digital advertising opportunities available!
To learn more, please contact Tom Conley
781-972-1351
FEATURED ARTICLES

Embracing the Lithium-Ion Battery Euphoria - Innovations in Electrolytes
Commentary Contributed by Saurabh Shelar, Analyst, MarketsandMarkets
Electrolyte is a chemical combination of salts and solvents in fixed ratio (generally 1:4 for lithium-ion battery) to enhance the flow of ions and create a conductive medium. Lithium-ion (Li-ion) battery electrolytes are classified based on state of electrolyte into solid and liquid electrolyte. Polymer pouch batteries used in laptops and cellphones are considered as liquid electrolytes.

Transient Response Analysis: Time and Cost Effective Battery Assessment
Commentary Contributed by Dong Woon Kim, M.Sc., Engineer, McScience, Inc.
Electrochemical impedance spectroscopy (EIS), also called Frequency Response Analysis (FRA), is widely used for detailed analysis of battery capability. EIS is a non-invasive technique used to assess secondary battery performance and electrochemical characteristics by measuring resistance and capacitance at various frequencies.

Delta-Q Technologies Releases 85V and 120V Industrial Lithium Battery Chargers
Delta-Q Technologies has released four high frequency lithium battery chargers in the ICL series: the ICL1200 and ICL1500 in 85V and 120V models. The 85V models designed to optimally charge lithium battery systems of any lithium-ion chemistry from 14 to 24 cells in series, where the 120V models charge from 21 to 34 cells in series.

Intelligent Power Manager Software Delivers Enhanced Power Management Capabilities
Power management company Eaton has announced the global launch of its Intelligent Power Manager (IPM) software version 1.60, which now offers full integration with the Nutanix Acropolis hyperconverged infrastructure platform.

Saft Launches Xcelion 6T-E Li-Ion Battery for High Energy Applications
Saft has launched a new product in the Xcelion product line, the Xcelion 6T-E, a high energy lithium-ion (Li-ion) battery capable of providing double the useful capacity of lead-acid batteries in the same footprint. The 24V battery is designed for applications such as military vehicles, rail, marine, and hybrid gen sets that require higher levels of storage capacity and longer silent watch periods.

See More New Products Online
Batteries | Charging | ICs & Semiconductors | Components
Testing, Monitoring & Safety | Manufacturing & Materials
INDUSTRY NEWS

Turbocharge for Lithium Batteries
A team of material researchers from Jülich, Munich, and Prague has succeeded in producing a composite material that is particularly suited for electrodes in lithium batteries. The nanocomposite material might help to significantly increase the storage capacity and lifetime of batteries as well as their charging speed.

Exro Technologies and Lithium Werks Collaborate to Improve Lithium Battery Performance Under Variable Conditions
Energy management company Exro Technologies and battery and portable power solutions group Lithium Werks have agreed to collaborate to improve the way batteries are controlled under variable conditions. Exro's software technology allows for constant monitoring and manipulation of energy inflows and outflows, at rates of up to 100k manipulations per second.

Sterling and Wilson to Deliver the Largest Battery Energy Storage Project in Africa
Sterling and Wilson, an Indian multinational engaged in engineering, construction, manufacturing, and energy services with more than $1.5Bn in revenue, has secured its first large scale hybrid and energy storage turnkey engineering, procurement, and construction order in Western Africa. Sterling and Wilson's turnkey scope of work includes complete design, engineering, procurement, construction, and O&M of a captive hybrid microgrid powered by solar, diesel, and battery energy storage.

Northwestern Researchers Predict Materials to Stabilize Record-High Capacity Li-Ion Battery
A Northwestern University research team has found ways to stabilize a new battery with a record-high charge capacity. Based on a lithium-manganese-oxide cathode, the breakthrough could enable smart phones and battery-powered automobiles to last more than twice as long between charges.

CONTACT THE EDITOR
Allison Proffitt
Editorial Director
Shannon Given
Editor