Intersil Corp. has announced two new single-channel DC/DC step-down power modules that deliver high power density and up to 95 percent efficiency in a compact 4. 5mm by 7.5 mm by 1.85 mm footprint. The pin-compatible 5A ISL8205M and 3A ISL8202M provide point-of-load (POL) conversions for FPGAs, DSPs and MCUs in a wide range of home networking and high-end consumer products, as well as portable industrial equipment that use Li-ion batteries. The modules are complete power supplies that include a controller, MOSFETs, inductor and passive components inside an encapsulated module, simplifying system design.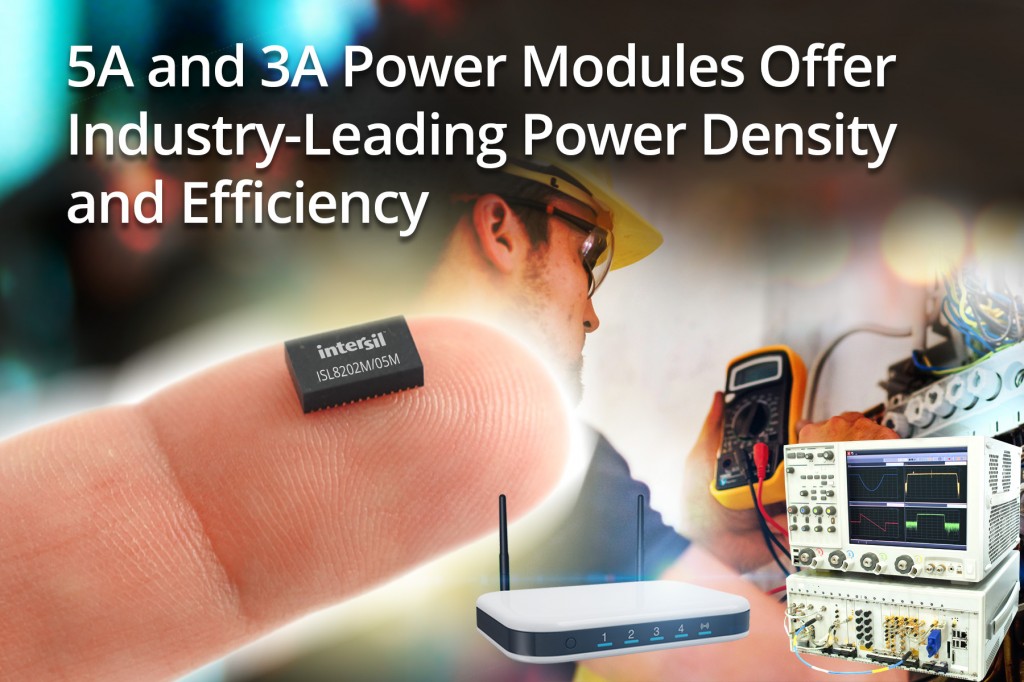 With a height of 1.85 mm, the ISL8205M and ISL8202M can be directly mounted on the backside of a PCB, freeing up valuable space for topside mounted components. Both devices support input voltages from 2.6V to 5.5V and offer adjustable output voltages as low as 0.6V. The pin compatibility allows engineers to start with a 3A power module and later migrate to the higher 5A output current, or design a power tree with multiple POL output rails. For battery-operated applications, the ISL8205M and ISL8202M offer unique efficiency and power saving features to extend battery life and support Energy Star compliant products. Selectable light load efficiency, 100 percent duty cycle modes and 50µA quiescent current enable better efficiency and lower power consumption at light load.
Both power modules leverage Intersil's patented technology and advanced packaging to offer high power density and enhanced thermal dissipation performance. A copper lead-frame structure allows the modules to operate at full load over a wide temperature range with no airflow or heatsinks. The ISL8205M and ISL8202M also provide several protection features that ensure safe operations under abnormal operating conditions, further enhancing their robustness and reliability.
"The ISL8202M and ISL8205M analog power modules speed time to market and provide the industry's best combination of power density and performance," said Mark Downing, senior vice president of Infrastructure and Industrial Power Products at Intersil. "Their size, light load efficiency and 100 percent duty cycle performance gives customers everything they need to address their increasingly compact battery-powered designs."